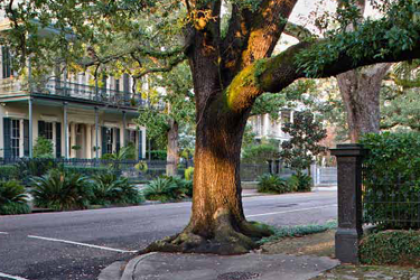 Wasn't it just yesterday that we were all dealing with south Louisiana snow? And then all of a sudden, the pollen is everywhere and green is sprouting all around.
Time to assess the damage from the cold snaps and start treating our trees for the spring.
Here are the 3 most important issues to address right now:
Palm Trees – What Should You Do?
This winter was brutal on our local palm trees. Generally speaking, they look terrible.
However, does that mean they're dead or will they come back? Here's some advice:
Palm trees that are most susceptible to long term damage include:
Fast growing species such as Robellini, Queen, Washingtonia & Chinese fan

Taller palms that were higher & exposed to more wind

newly planted palms
Those that are more freeze tolerant include:
Sabals, Windmill and Phoenix variety palms (Canary, medjool and Sylvester)
Just about all the palms have their fronds browned out by now. But those who survive will regenerate new growth by late spring or early summer. But should you wait that long?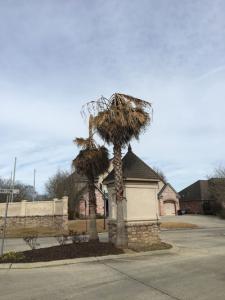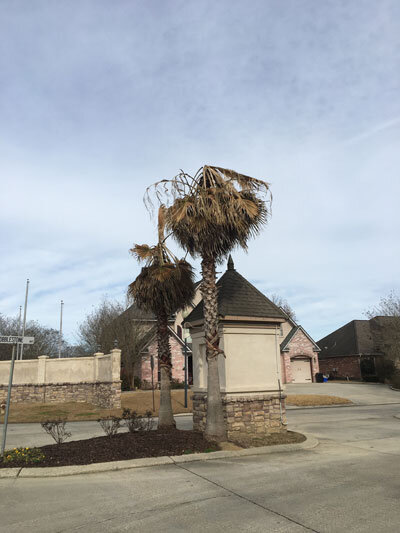 We recommend getting a professional inspection NOW. Here's why!
The longer you wait, the more difficult a tree may be to climb or remove.

Bugs & organisms may take root (you'll see sawdust or fluid coming out of them)
Preventing Insects & Disease
The warm weather means our bugs are coming out of hibernation. All sorts of pests are on the move already which includes termites.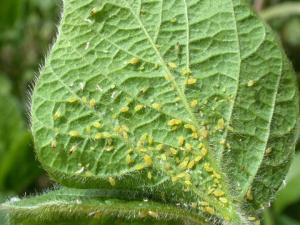 Mid-early March means the caterpillars will show up HIGH numbers. They can defoliate & weaken your tree enough to cause serious damage – quickly!
The buck moth is considered toxic & will sting you. If you've got oak trees around, call us to register for our buck moth spraying service.
Other breeds of moths will affect many other types of local trees as well. Also, they can be dangerous to pets or humans if you step on them once they die in the tree!
Professional spraying is recommended to catch the problem before it begins.
Fruit trees are especially susceptible to disease this time of year but they are treatable again if you catch them early.
Tree Fertilization – The Inside Scoop
People naturally think about fertilizing in the spring. But did you know that tree fertilization can be done any time of year?
In nature, trees grow naturally. The soil ecology is the way nature intended it. When foliage falls or trees die, they decompose and the cycle continues.
But in urban areas, compacted soil, restricted root areas, drainage issues, damage from digging and competition from other species like grass make fertilization required to maintain healthy trees.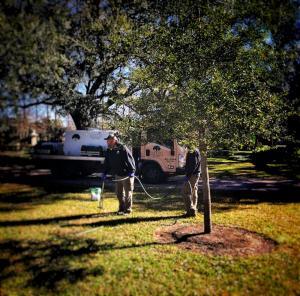 The WRONG type of fertilization
Most of the standard varieties of liquid fertilizer you buy at a box store releases too much of the nutrients at one time. Many of them contain large amounts of salt which can cause some health issues for our trees.
This is not a natural process. It causes the tree to green up more quickly than it should and can actually have the opposite effect when the unnatural growth attracts insects & disease.
Professional Fertilization
We use a fertilization product that is 100% organic and slowly releases nutrients to the plants over time. This produces healthy, slow growth and dark green foliage.
And remember, the greener the foliage, the more chlorophyll & nutrients are present.
When fertilized in this fashion, the tree can absorb more light, produce more food and more naturally grow their roots & foliage.
Contact us today for a consultation to discuss your tree fertilization needs.