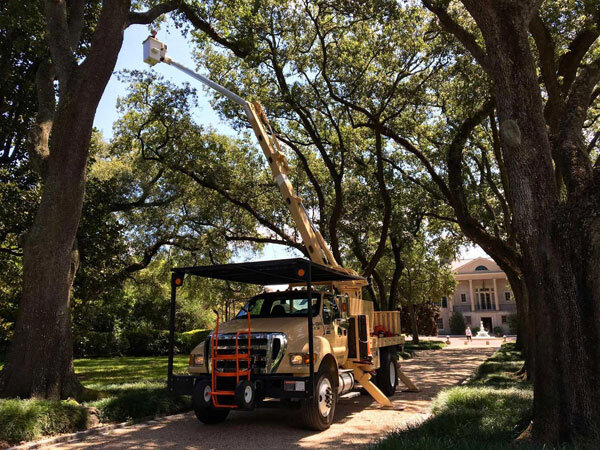 If you're lucky enough to have beautiful live oak trees on your home or a property you manage, then you should know all about live oak tree care and have your next pruning already scheduled.
If you don't, keep reading, because we want to help make sure you keep those natural beauties looking great through this winter and next spring and fall to come.
Why You Need to Schedule a Live Oak Pruning in the Winter
As professional arborists, we know all about the U.S. Department of Agriculture's Plant Hardiness Zones. These color-coded zones tell people throughout the country when plants are most likely to thrive given their location.
Southeastern Louisiana, especially major areas like Baton Rouge, New Orleans, and the Northshore, is in the 9a hardiness zone, where thankfully for us, Live Oaks thrive and give off their majestic beauty.
Unfortunately, these stately trees are prone to disease and pest infestations during their growing season. That's because tree wounds naturally open as the tree is growing, allowing these ailments inside.
But there's hope.
By timing your live oak tree pruning during the dormant winter season of December through February, you can achieve a beautiful look to your trees' branches and fight off diseases and pests, too!
Don't Hire a Handyman or the Guy Who Cuts Your Grass to Prune Your Life Oaks
Sadly, a lot of people like to cut corners when it comes to maintaining their trees. Trust us, if you have live oaks, that's the last thing you want to do.
The handy man working on your property may offer to prune your Live Oaks.
Or perhaps the guy who cuts your grass offers a winter special on tree trimming now that grass has died in the south.
Even if you think you may be able to save a few bucks this year, don't do it!
Your live oaks, especially historic live oaks, have experienced hundreds of years of Southern culture. Now's not the time to risk that, just for a 10% off deal.
Only an International Society of Arboriculture (ISA) certified arborist, like the ones at Bayou Tree Service, have the education, training, and experience to properly prune your live oaks.
Whether you're a Louisiana native or a transplant who's been around here long enough, you've likely heard the following live oak horror stories:
Live oaks that were butchered by someone who only trims trees as "add ons" to the handiwork services they provide to homeowners
Gardeners and grass cutters trained at keeping your grass short and green taking on the unearned role of "arborist" in the winter during the down season to keep billings up
Live Oaks that go left untreated in the winter months because their caregivers get too busy with the holiday season
None of these situations are ideal for your live oaks, whether they're on professional, academic, plantation or personal property.
Why You Should Only Let ISA-Certified Arborists Prune Your Live Oaks
Live oaks are known for their beauty, and only an ISA-certified arborist has a trained eye to maintain that look when pruning your live oak trees. Here's what we at Bayou Tree Service can offer you:
Professional live oak tree trimming by a trained ISA-Certified arborist
Final aesthetics that will make your live oaks look just as beautiful – or even better – than they were before pruning
Perform a professional termite inspection, which you need to keep your live oak healthy, long-term
A pre-project walkthrough so you know exactly what our team is going to do
Answers to all your questions so you can rest assured your live oaks are in good hands
Unfortunately, many of us have driven by a live oak that has been butchered by an untrained professional, and you know that these trees don't just "snap back."
Once a live oak pruning goes wrong, it's devastating and can literally take decades for you to get the shape back you desire – if you're lucky. Take proper care of your live oak trees today. Call us for an estimate and to schedule a pruning at (504) 608-0523 in New Orleans or (225) 401-0044 in Baton Rouge.