Employment
Do you love the outdoors?
Do you want to be part of a team that works together and plays together?
Do you want to work for a company that will teach you new skills and reward your hard work with opportunities to advance and earn more money?
If you answered YES to the above questions, Bayou Tree may be looking for YOU!
Bayou Tree Company with Locations in New Orleans & Baton Rouge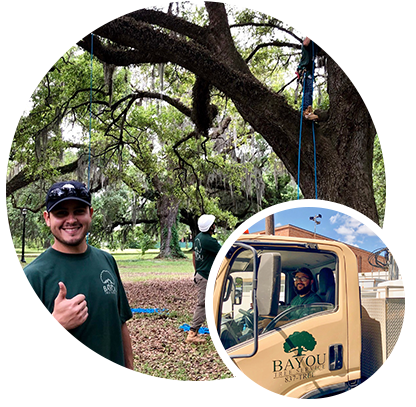 We've been caring for southern Louisiana's trees since 1980 and have locations in Baton Rouge & New Orleans.
Bayou Tree prides itself not only on ecological commitment of the environment, but also to your personal work environment.
You need the best tools to do the best job. That's why we use state-of-the-art equipment. You'll need the tools because the climate in New Orleans means year round work. Not that we'll expect you to work every week.
We offer paid vacations and holidays to keep you fresh while on the job. Of course, we realize that there are many practical concerns that you have to consider when taking any position. Our competitive salary is complemented by a profit sharing program.
We do well; you do well.
We care for your fitness too with a great health and dental plan.
Keep an Eye On The Future
Today's job seekers value options when it comes to career goals. That's why we not only provide incentive for you to stay with us, we also offer training and education that will be of value no matter where your career takes you. There is great potential for advancement because we have a penchant for promoting from within.
We even have a retirement plan in place that insures your golden years will be truly golden. The individual plan is up to you. We are also proud of our continuing education program. We offer training for and assistance in obtaining your arboricultural license. We provide computer training as it pertains to the industry. Other programs you can take advantage of include a host of technical and personal development seminars. In fact, if you want to take a course related to business and/or arboricultural concerns, we'll give you full tuition assistance.
For more information about joining the Bayou Tree Service team contact the Human Resources department:
(504) 608-0731