Professional Hedge Trimming & Pruning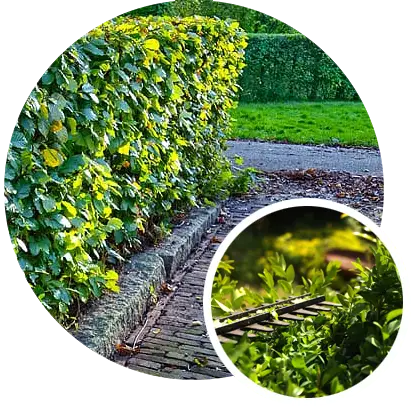 From the Louisiana-Certified Arborists at Bayou Tree Service
Bayou Tree Company is dedicated to the preservation and care of Louisiana's trees,  hedges, and topiaries.  Bayou Tree Service has been part of south Louisiana since 1978 with fully staffed offices and local teams in New Orleans and Baton Rouge to better serve you!
If you would like to find out how much it will cost to have a professional maintain your your hedges(s), please call us to request a consultation.
Reasons to  hire and Arborist for my Hedges:
Planning– Your hedges are living plants that grow and develop over time.  It is especially important before you get started with a hedge row to make sure that your plants are properly spaced, and given proper soil conditions to maintain their health into the future.
Appearance – properly shaping a hedge requires more planning and maintenance than normal tree care to maintain the signature look you are going for.
Health Care – Regular trimming leaves hedges especially vulnerable to all the normal trauma risks of cutting any plant.
Safe passage – Hedges are often planted in close proximity to walkways which makes their proper  maintenance especially important for keeping the paths usable.
Preservation – A properly maintained hedge will last longer than one that is trimmed indiscriminately.
Scale – render the tree in proportion to the site
Here in south Louisiana, hedge trimming pruning is often thought of as a task for late fall or winter when our hedges are generally dormant. However, due to our mild winters and year round issues with high winds, storms and pests, hedge maintenance is definitely a year round job!
Types of Hedge Pruning & Maintenance
Our local, Louisiana-certified arborists care for trees in each stage of their lives including:
Recently Planted Hedges
These hedges require special care in order to give them a solid footing for growth. We inspect for damage which may happen during the transporting or planting process as well as carful pruning to make sure that the bush develops a good distribution of branch's to fill out the space.
Young Hedges
Caring for young hedges is about encouraging growth and maintaining a good form. Our main goal is to remove any limbs which may cause asymmetric growth, and to encourage new growth to fill out gaps in the hedge's shape.
Mature Hedges
The main goal of maintaining a mature hedge or topiary is all about shape.  Hedges are living works of art that require special care to maintain their signature look.  Not only does this mean cutting back new growth, its also means inspecting the plant for signs of  pests, disease, damage, and crowding that could leave your hedge dead or balding in the future.
Avoid DIY Disasters
You may be tempted to do a little research online and try your hand at hedge pruning. However, as licensed arborists, we can tell you it's not always as easy as it looks!
We're often called to jobs after someone tried to trim their own hedges with less than desirable results.  Here are a few reasons to consider calling a professional abborist rather than doing it yourself:
Safety – trimming hedges requires the use of sharp and potentially dangerous equipment.
Shaping - shaping a hedge is about more than just cutting back the growth.  Every cut on every branch grows back differently depending on where and how you cut it; so, it is important to know for your hedge's long term health how what you do today will make it look tomorrow.
Stunt, damage & kill the hedges– pruning too much or cutting back limbs at the wrong time can stress your hedges which makes it more susceptible to pests, disease or damage.
Local Tree Experts Serving Southern Louisiana Since 1977
Bayou Tree Service provides professionally hedged landscapes by Louisiana-licensed arborists throughout metro New Orleans and Baton Rouge. If you would like to find out how much it would cost to have our professionals care for your trees, please call us today to request a consultation.