Professional Tree Planting & Transplanting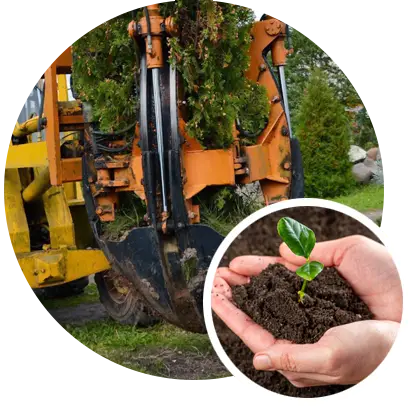 From the Louisiana-Certified Arborists at Bayou Tree Service
Bayou Tree Company is dedicated to the restoration and care of Louisiana's trees.  Done properly, adding new trees to your property can provide a wide range of benefits for your home, business or municipality.  Bayou Tree Service has been part of south Louisiana since 1978 with fully staffed offices and local teams in New Orleans and Baton Rouge to better serve you.
If you would like to find out how much it will cost to have a professional plant tree(s) on your property, please call us to request a consultation.
Reasons to plant trees:
Beautification – From tree lined paths to hang-out center pieces, well curated trees can add a lot of beauty and value to your greenspaces.
Environment – A single tree can absorb tons of greenhouse gases from the air over the course of its lifetime.  Raising trees on you property can significantly reduce your carbon footprint.
Reduce Electrical Costs – Well placed trees offer shade and insulation for adjoining structures, reducing your A/C and Heating costs.
Erosion Protection – Trees catch rain water in their leaves before it hits the ground significantly reducing the effects of rainwater erosion on your property.
Wind Protection – While poorly laid out, unhealthy trees are known to increase the risk of damage to property, when properly laid out and maintained, they act as a wind break and actually reduce structural damage during major storms.
Flood Control – A single tree can offset hundreds of gallons of rainwater during a major storm.
Pest Control – Every green space is a natural ecosystem, and the trees and vegetation that your plant will attract or repel various wildlife.  A well thought out ecosystem can increase desirable wildlife like ladybugs, dragonflies, and butterflies and keep away unwanted pests like mosquitoes and gnats.
Here in south Louisiana, bad experiences with hurricanes and other major storms paired with poorly laid out and unhealthy trees have caused many property owner to remove all trees from their property only to find out later that the trees were doing them much more good than harm.  Any time you are working with open green spaces, or old trees coming down, it is always wise to consider planting new trees to build a more attractive, safe, and environmentally friendly space for your future.
Avoid DIY Disasters
You may be tempted to do a little research online and try your hand at planting. However, as licensed arborists, we can tell you it's not as simple at it looks!
Here are a few reasons to consider calling a professional tree planter rather than doing it yourself:
Safety & Digging Hazards – Planting trees, especially transplants, requires the use of sharp and potentially dangerous equipment, and digging holes deep enough that you risk cutting into buried electrical wires and plumbing.
Spacing – Understanding how a tree will mature as it gets bigger is important when planting.  Many home owners will plant their trees too close to their house or fence risking property damage, or they don't leave enough space between trees and they interfere with each other as they get bigger, or they plant them too far apart making them more vulnerable to storm damage
Ecosystem Disruption – It is not a question of IF your yard will attract wildlife, but of what wildlife you will get.  Planting the wrong species of trees may attract unwanted pests or drive away local fauna that you once enjoyed.
Local Tree Experts Serving Southern Louisiana Since 1977
Bayou Tree Service provides professional tree planting by Louisiana-licensed arborists throughout metro New Orleans and Baton Rouge. If you would like to find out how much it would cost to have our professionals care for your trees, please call us today to request a consultation.