From the Louisiana-Certified Arborists at Bayou Tree Service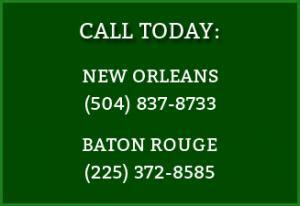 Bayou Tree Company is dedicated to the preservation and care of Louisiana's trees. If you have a tree or group of trees that needs to be pruned or trimmed for your home, business or municipality, we're here to help. Bayou Tree Service has been part of south Louisiana since 1978 with fully staffed offices and local teams in New Orleans and Baton Rouge to better serve you!
If you would like to find out how much it will cost to have a professional prune or trim your tree(s), please call us to request a consultation.
Reasons to trim & prune your trees regularly:
Safety – remove hazardous limbs
Appearance – accentuate natural form and beauty
Health – remove diseased and dead limbs
Protect structures – remove limbs posing an immediate threat to home or buildings
Safe passage – raise canopy to allow vehicular traffic and or pedestrian passage
Preservation – extend the life of the tree
Scale – render the tree in proportion to the site
Understory light – raise canopy to allow enough light to grow ornamentals under the tree canopy
Here in south Louisiana, tree pruning is often thought of as a task for late fall or winter when our local trees are generally dormant. However, due to our mild winters and year round issues with high winds, storms and pests, tree maintenance is definitely a year round job!
Types of Tree Pruning & Maintenance
Our local, Louisiana-certified arborists care for trees in each stage of their lives including:
Recently Planted Trees
These trees require special care in order to give them a solid footing for growth. We inspect for broken branches which may happen during the transporting or planting process as well as lower limbs that may compete with the leader or cause obstructions.
Young Trees
Caring for young trees is about encouraging growth and maintaining tree health. We generally prune to improve health and appearance, and to help develop limbs which will be part of the trees canopy for the rest of its life. Our goal is to remove any limbs which may cause future health or structural problems, and remove any limbs which may interfere with structures are safe passage.
Mature Trees
Maintaining tree health, extending their life and addressing safety concerns are usually the focus when pruning mature trees. We inspect for issues with pests or disease as well as damage from wind or storms which may weaken or damage branches.  Safety is often our major concern with mature trees because of their sheer size and the potential consequences of major limb failure.
Historic Trees
Historic trees are our specialty, and our local New Orleans and Baton Rouge areas are blessed with an abundance of historic Live Oak trees.
Despite what you might think given their stately size, historic oaks grow each year and need regular maintenance. Regular inspections are necessary to identify branches that may be damaged, weak or even dead. Special expertise is needed to determine the best places to trim these branches.
Additionally, historic trees often spread near homes and businesses so they must be continually monitored for maximum safety of everyone, including the tree itself.
Avoid DIY Disasters
You may be tempted to do a little research online and try your hand at tree pruning. However, as licensed arborists, we can tell you it's not always as easy as it looks!
We're often called to jobs after someone tried to trim their trees themselves with less than desirable results.  Here are a few reasons to consider calling a professional tree trimmer rather than doing it yourself:
Safety – trimming trees requires the use of sharp and potentially dangerous equipment.
Electrical Hazards – tree limbs are often located near power lines or electrical equipment
Heights – trees or branches can't always be pruned from the ground and require ladders, trucks or good old fashioned tree climbing.
Stunt, damage & kill the tree – pruning too much or cutting back limbs at the wrong time can stress your tree which makes it more susceptible to pests, disease or damage.
Local Tree Experts Serving Southern Louisiana Since 1977
Bayou Tree Service provides professional tree trimming and pruning by Louisiana-licensed arborists throughout metro New Orleans and Baton Rouge. If you would like to find out how much it would cost to have our professionals care for your trees, please call us today to request a consultation.