It's been a cold winter… by south Louisiana standards. We've had several bouts of long, hard freezes and the extreme cold is taking a severe toll on our local palm tree population.
As people venture outside, they're seeing their palms with brown fronts and droopy spears. That is prompting a lot of questions about whether the palms are dying, deal or simply under distress.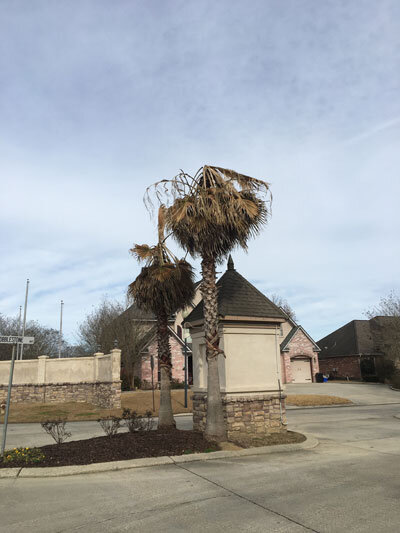 Many people are also questioning whether they should remove the palms now or leave them for a few months to see if they come back in the spring or summer.
Here's a summary of the situation and our recommendations:
Are They Dead, Dying or Just Distressed?
Here are some signs your palms may be dead:
Dead fronds
Spears are brown
Terrible smell (you don't want that on you!)
The biggest predictor is the species susceptibility to freeze damage, location of the palm on site, geographical location, height and age.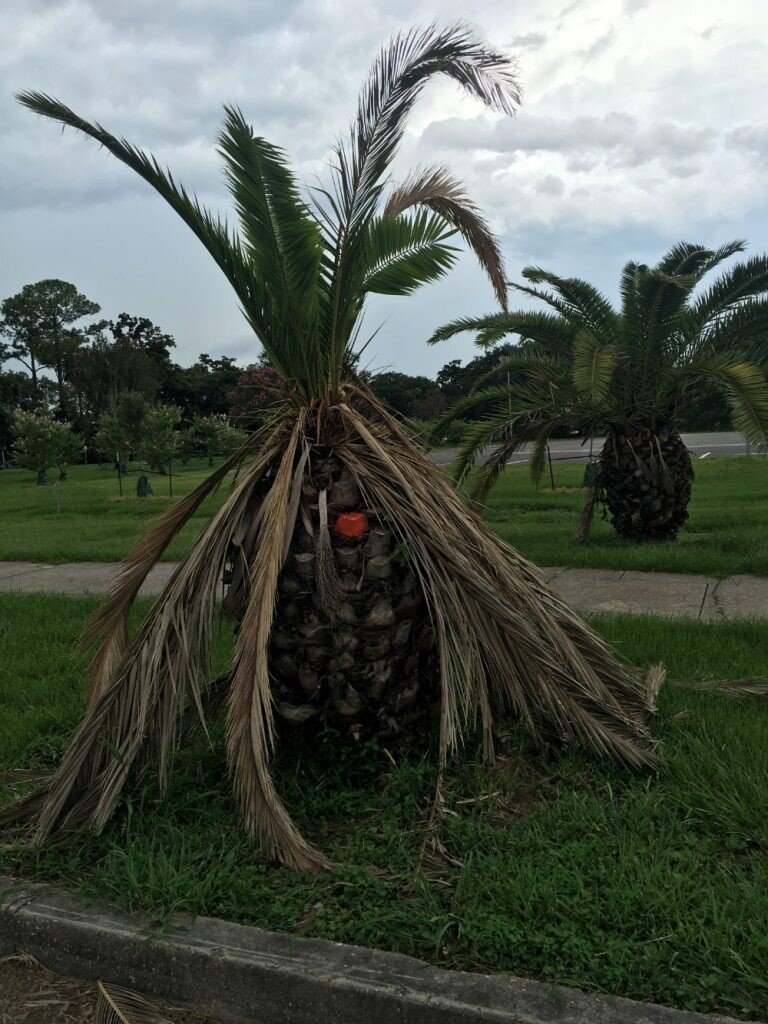 Of course this is driven by genetics.  The climate where they evolved in and where natural selection took place will dictate their reaction to cold conditions.
Those most susceptible to freeze damage are:
 Robellini  – Probably dead
 Washatonia
 Chinese Fan Palm
 Queen
 Raphis – probably resprout from the ground if the trunks are dead.
Most tolerant and probably all made it:
Canary Island palms
Phoenix palms
Sabal
Windmill
Meditation fan palm
The Canary palms are the most valuable palms and perhaps the  most confusing. As we reported last year, the canary species is under heavy attack from disease, so it's hard to say if the damage you're seeing is from a freeze or from Texas Palm Disease.
Remove Them or Wait it Out?
The best thing you can do is have the trees inspected by our team or some other professional, qualified arborist. A careful inspection is required to determine if the tree can possibly be salvaged.
While we generally attempt to preserve trees when possible, there is a risk when it comes to palms.
The longer you wait, the more difficult they can be to remove. The trunks become soft and difficult to climb making it more hazardous to remove, and usually more expensive.
However, we understand that some palms are extremely valuable trees, so in some cases you may want to wait until spring or summer to have them removed as they come out late.
And remember, we're not out of the woods yet so to speak. South Louisiana freezes are common up until mid-March!
Your Best Best? A Professional Inspection
Before you make any decisions about a valuable palm tree, make sure to consult a professional arborist as a good old fashioned inspection is the best course of action.
If you'd like to discuss your situation with a member of our team, please get in touch with us today.